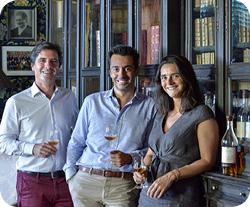 A.O.C. :
Bas Armagnac
Producer :
Famille Lesgourgues
Location :
Gers

H
ISTORY
Château de Laubade was founded in 1870, in the heart of Bas Armagnac, the noblest land. Today, the third generation of the Lesgourgues family is part of a sustainable model and oversees the destiny of the appellation's largest vineyard, with 105 hectares, facing the Pyrenees, where the emblematic Baco remains the majority grape. . A vineyard exclusively dedicated to Bas Armagnac and which allows Château de Laubade, elevated to the rank of World Class Distillery, to achieve excellence in complete independence.

VINEYARD
• 260 acres of single vineyard in Bas Armagnac.
• Four traditional grape varieties: Ugni-Blanc, Folle Blanche, Colombard and Baco (the most emblematic).
• Sustainable agriculture: organic manure is produced by 600 ewes.

Château de Laubade does not deliver for Switzerland.