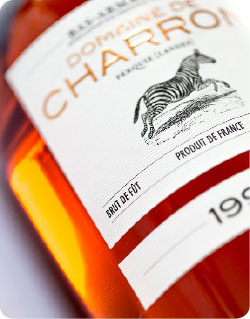 A.O.C. :
Armagnac, Bas Armagnac
Producer :
Claude Lartigue
Location :
Landes
In order to offer the best aromas, the Armagnacs of Domaine de Charron are not reduced (no addition of water to reduce the degree of alcohol), they are all "bruts de fûts". No sugar or coloring are added.
These 100% baco vines thrive on the famous Bas Armagnac wild sands. Born from the meeting of the land and the sea, these sandy soils and argilo-siliceous, make the personality and pride of Bas Armagnac area.The main quality of this variety is its ability to work wonders when trading with oak during the long years of barrel aging.
At Domaine de Charron, all the eaux-de-vie are currently under wood. The traditional bottling is done as orders. Once bottled, Armagnac no longer ages. Aging takes place only when the Armagnac is in the barrels.
Thanks to their authenticity, every vintages have been rewarded with one or more medals at the following competitions: Concours Général Agricole de Paris, Contest "Talents de l'Armagnac" Eauze, Contest Bas Armagnacs Landais.
- Gold medal for vintage 2005 at concours Les Talents de l'Armagnac 2019
- Silver Medal for vintage 2001 at concours Les Talents de l'Armagnac 2019
- Gold medal for vintage 2003 at the 2017 General agricultural contest of Paris
- Silver medal or vintage 2004, at the 2017 General agricultural contest of Paris
- 2 silver medals for vintages 1986 and 1989 in the « Armagnac AOC 1985/1994 » category, at the 2017 General agricultural contest of Paris.
- Gold medal for the 8 years, at the 2016 Géneral agricultural contest of Paris