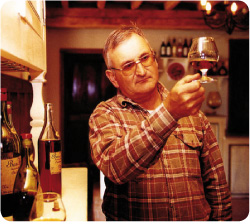 A.O.C. :
Bas Armagnac
Producer :
Francis et Lydie Dèche
Location :
Gers en Gascogne
2020 General Agricultural Contest of Paris : 1998 vintage, Gold Medal.

For five generations …
Le Château de Millet is located at Eauze, Gers, in Gascony right at the heart of Armagnac. First dedicated to mixed farming and production of Armagnac the domain is now producing Côtes de Gascogne wines, "Domaine de Millet", on 50 hectares.

A soil 100% Bas-Armagnac !
The vineyard runs through the green hills, North-West of Eauze, where sandy and clay soils meet the so-called "sables fauves" which are sandy soils. This specific soil from the Bas-Armagnac area is renowned for its delicate and fruity brandies. Wine growers from father…. to daughter.

Owners, Francis and Lydie Dèche perpetuate the work of five generations,
undertaking a highly qualitative work : traditional blending of grap varieties, integrated farming of the vineyard and constant evolution in methods and means of vinification. With Laurence, their daughter, who joigned them in 1999, they market a tasty and varied range… to be discovered !

Promise of pleasures and sensations.
As soon as they are out of the still, brandies are put in barrels of wine of 400 liters for a slow farming lasting tens and tens of years… Brandies "the Eaux-de-Vie" will be blended ( 5 years blending) or bottled in prestigious vintages, little by little, when sold.
All Armagnacs are exclusively produced with wines harvested, vinified and distilled at the Château de Millet. They are raised in oak barrels until they are bottled on the date mentioned on the label.