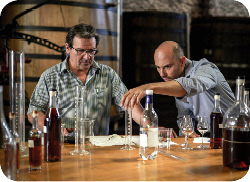 A.O.C.:
Bas Armagnac
Producer:
Famille Dartigalongue
Location:
Gers en Gascogne
Since 1838, the DARTIGALONGUE family has been making artisanal Armagnacs in Nogaro, Bas Armagnac (the first region of the Armagnac Appellation).
The family is proud to hold in his "paradise" the oldest Vintage of the region: the harvest 1848.
The Dartigalongue family carefully selects its white eaux-de-vies made from the white wines of three varieties Baco 22A, Ugni-Blanc and Folle Blanche, all coming from the prestigious Bas-Armagnac terroir.
Distillation takes place in an alambic with plates, a continuous distillation at a low degree of alcohol in order to retain the maximum aromas and complexity. The oak barrels used for ageing the eau-de-vie are bought from local coopers and are made from Gascon oak – southwest.
The DARTIGALONGUE house blends are created in tandem by Ghislain Laffargue, cellar master since 1990 and Benoit Hillion, Director and nephew by marriage of Françoise Dartigalongue.
DARTIGALONGUE Armagnacs are made at 100%with local products. The gift-boxes, wooden boxes, labels and all rough materials come from south-west of France.
The bottles are sold in the best retail shops in France, in more than 35 Michelin-starred restaurants, and in 22 countries abroad. It is a historical reference in the appellation, since 6 generations.
Grapes : Baco 22A, Ugni Blanc and Folle Blanche.