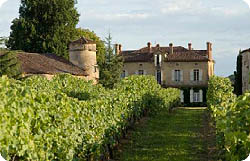 A.O.C. :
Armagnac
Producer :
Famille Castarède
Location :
Lot-et-Garonne




Thanks to 175 years of love and hard work, the Castarede family has acquired unique know-how regarding the choice of the best Bas Armagnac products and the distillation methods of this specifically French eau-de-vie.
The estate is surrounded by vineyards planted with three varieties of vines: Folle Blanche, Colombard and Saint-Emilion.
In the Château de Maniban acquired in the 16th century, the Castarede family watches over the cultivation, production, distillation and aging of its Armagnacs.
The Castarede family owns multi-centenary winery, preserved on the banks of La Baïse in the Lot-et-Garonne. According to specialists, this site creates remarkable isothermal conditions for the best possible aging of the vintages.


- Elected Best Armagnac of the World in Great-Britain
- 2018 General Agricultural Contest of Paris : Castarède XO 20 ans d'âge, Gold Medal
- World Award of the best Armagnac for the Hors d'Age 20 ans